Adult Education
Each service supports people to continue their education as they wish. Different courses are run in the different services and here are some examples: 
Life Long Learning and Education
These programmes provide a chance to explore new activities and develop new skills and personal interests. Examples of activities are: Cooking, home management, art and crafts, drama, health and fitness and computer skills.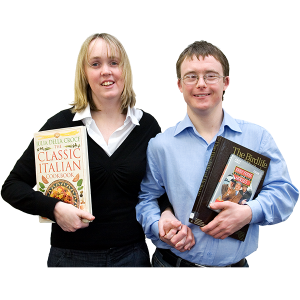 Rehabilitative Training
This is a four year training programme where a person will have the opportunity to develop skills and confidence in personal, social and life skill areas, as well as take part in work experience placements. On completing the programme, people may move on to employment and/ or further training. They will also have gained accreditation through FETAC/QQI. 
FETAC/ QQI Certificates
Many Saint John of God Services are, 'Registered Providers' with the Further Education and Training Awards Council (FETAC/QQI). This means that people who are learning and developing new skills can have this education recognised at a national level. Certificates can be gained at FETAC level 1,2 and 3
University/ College
A number of our services support people to attend university or colleges throughout the country. 
Saint John of God Kerry Services supports students to attend Institute of Technology, Kerry 
Saint John of God Dublin South East  supports students to attend Trinity College, Dublin 
Saint John of God Liffey Region supports students to attend the National University of Ireland, Maynooth
Saint John of God North East Services supports people to attend the Institute of Technology, Dundalk 
Children's Education
There are seven special schools under the umbrella of Saint John of God Hospitaller Ministries.